Alan Sedgwick Watts
(5 July 1919-1 May 2016)
Obituary published in The Dickensian 2016, Summer issue, pages 191-2.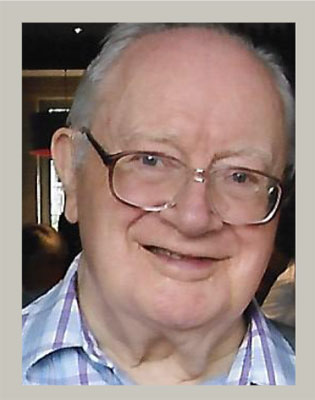 With the death of Alan Watts on 1 May 2016 in his 97th year, the Fellowship has lost one of its most important members and former officers; someone whose contribution and influence was deeply significant for the way the Fellowship has developed.
Born in Saltburn-by-Sea, North Yorkshire, he lived for some years on Merseyside. He did war service in the Royal Artillery from 1940 to 1946. In 1942 he married Dorothy who later contracted multiple sclerosis and died in 1953. Their daughter Fleur was born in 1947. In 1955 he married Marjorie and they were together until shortly before their fiftieth wedding anniversary in 2005 when Marjorie died suddenly. Their son Malcolm had been born in 1957.
The years they spent at Upton Wirral were fruitful ones with Alan becoming increasingly involved in church and community activities, writing freelance journalism and several plays. His principal career from 1936 was with the Ministry of Labour: he managed a Merseyside employment exchange, worked on the resettlement of discharged prisoners and on labour relations and factory conditions. In 1966 a promotion brought him to London, where the family settled in Beckenham, Kent.
Alan Watts became a Fellowship member in 1971. In 1976 plans were in train for him to take on a share of the work done by the then General Secretary, John Greaves, but his sudden death meant that Alan assumed that responsibility fully. He discharged it from 1976 to 1990, when he was elected to be President.
Throughout these and subsequent years Alan displayed total commitment to the ideals of the Fellowship. He was a regular presence at the Annual International Conference, a frequent – and highly-regarded - speaker on Dickens, and he developed an enormous network of international contacts, making many friends, always offering them hospitality on their visits to the UK. Beyond the point where he held any official position in the organisation, he attended meetings regularly, contributed much wisdom, and maintained his full involvement until advancing years made it difficult for him to travel. In all of these activities he was given sterling support by his late wife Marjorie.
One of the ways in which Alan helped to maintain links between members spread across the globe was in the creation in 1982, of an occasional newsletter called Mr Dick's Kite .He maintained his links with it until very close to the end of his life, working with his daughter Fleur.
Alan served as a Trustee of The Charles Dickens Museum during his time as Fellowship Secretary also acting as Secretary to the Board of Trustees. He continued to be a Trustee whilst President, and was an elected Dickens Fellowship representative on the Board from 1992 until he stood down in 1999, so his service to the Museum spanned over twenty years. His knowledge of the contents of the Museum's collection was encyclopaedic and unrivalled.
He founded The Friends of the Museum, with the aim of raising funds to help maintain the fabric of this Georgian terraced house, and he held regular 'At Home' afternoons there offering visitors tea and showing them some of the Museum's treasures. He undertook fund-raising schemes in more recent times as well. It was a great pleasure for him to visit the Museum during the summer of 2007, a first visit for some time.
Alan had a fund of knowledge about Dickens and his times, and we are fortunate that he was able to publish in ways that enable future generations to have the benefit of his erudition . He wrote a series of books: Dickens at Gadshill (1989), The Life and Times of Charles Dickens (1991) and The Confessions of Charles Dickens (1991), as well as contributing substantial sections to The Oxford Reader's Companion to Dickens (1999). He collaborated with Dickens's great-grandson, the late Cedric Dickens, on The Miracle of Pickwick (2001). In 1999 he embarked on the editorship of a periodical called The Dickens Magazine, which has published several series each focussing on a different novel. It continues to be in publication.
Alan's funeral service took place on 25 May at Christ Church, Beckenham, the church which had been such a central part of his and Marjorie's life from their arrival in Beckenham in 1966. He had been a Churchwarden and continued his involvement with the Church Mission Society long after he had moved into the nursing home where he spent his last years. The Dickens Fellowship was well-represented in the congregation and the President spoke about Alan's extensive interest in Dickens and his contribution to the Fellowship.
Alan Watts gave devoted service to the tasks he undertook for our organisation, helped to bring many new readers and enthusiasts to the works of this country's greatest novelist, and continued to stimulate the interests already present in others. He was a generous, witty, inspirational figure, and we shall long remain immensely grateful for all he gave us.
TONY WILLIAMS