The Dickensian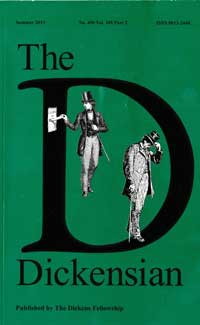 The Fellowship's journal, The Dickensian, founded in 1905, publishes articles of literary criticism from scholars around the world and occasionally special Supplements of newly discovered letters by Dickens. It also carries reviews of books, plays, films and TV productions, together with reports of Fellowship activities and other Dickens-related news. The Dickensian is edited by Professor Malcolm Andrews of the University of Kent.
Currently 96 pages long, The Dickensian is published three times a year, with articles on all aspects of Dickens's life, works and character; book, theatre, TV and radio reviews; and a section devoted to reporting on Fellowship activities.
Newly discovered letters of Charles Dickens are published in The Dickensian as Supplements to the Pilgrim Edition of The Letters of Charles Dickens.
Subscriptions
It is not necessary to belong to the Fellowship in order to subscribe to The Dickensian, but there is a special low rate for members.
Subscriptions must be paid in advance, and cover a year's three issues: Spring (typically May), Summer (typically August) and Winter (typically December).
Rates for Volume 108 (2012) are as follows:
Individual subscribers

Members of the Fellowship - £15.00
Non-Members in the UK - £19.00
Non-Members outside the UK  - £21.00

Institutions

Inside the UK - £29.00
Outside the UK - £32.00
Please print out and complete the subscription form
Advertising
Applications or enquiries concerning advertising should be addressed to:
The Dickensian,
The Charles Dickens Museum,
48 Doughty Street,
London WC1N 2LX.
Advertising Rates Full-page advertisement £100
Half-page advertisement £50
Contributions
Contributions and editorial correspondence should be addressed to the Editor:
Professor Malcolm Andrews
The School of English
Rutherford College, University of Kent
Canterbury, Kent CT2 7NX, England
Fax: (01227) 827001
E-mail:
M.Y.Andrews@kent.ac.uk
Articles should be up to 5,000 words, exclusive of notes. Illustrations are welcome, for articles, reviews and Fellowship matters: if illustrations are to be included they should be embedded in the submitted work and given full captions. Photos or scanned pictures should be supplied at a minimum 300dpi resolution. Contributors should ensure they have permission to reproduce any such illustrations for publication.
Contributors are asked to observe the following house-style conventions in presenting material to The Dickensian:
1 hard copy of each submitted article or review plus an electronic copy in 'doc' form (not docx).
An s.a.e. (or international post coupon) if you wish your article to be returned in the event of its not being accepted
Typescripts to be at least 1.5-spaced.
Use endnotes, not footnotes.
Single quotation marks should be used, with double for quotations within quotations.
The possessive 's' is added to 'Dickens' (i.e. Dickens's) and to similar proper names.
Dates should give Day followed by Month followed by Year (e.g. 7 February 1812).
No full stop should follow abbreviations such as 'Mr' or 'Dr'.
Paragraph beginnings should be indented.
Proofed work for checking will be sent to contributors electronically, not by post.