Dickens As A Journalist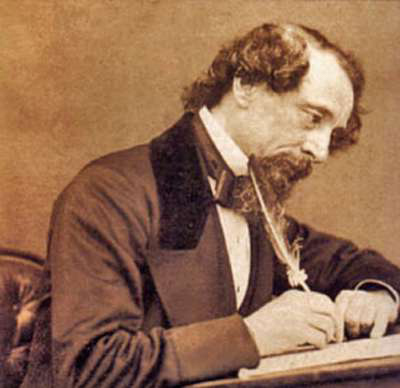 Dickens writing
Dickens was an accomplished reporter before he achieved success as a writer of fiction. Following his rise to fame, he took on a number of editing roles that proved less than satisfying before becoming in 1850 the editor of a weekly publication, Household Words. He edited this and its successor, All the Year Round, through to his death in 1870. Some details are given below, in chronological order, of his journalistic roles.
Freelance law reporter (1829-31)

Parliamentary reporter, The Mirror of Parliament (1831-32)

Reporter, True Sun (1832-34)

Reporter, The Morning Chronicle (1834-36)

Editor, Bentley's Miscellany (1837-39)

First editor of the monthly magazine, Dickens found it difficult to work with the publisher, Richard Bentley. Replaced by William Harrison Ainsworth.

Founder and Editor, Master Humphrey's Clock (1840-41)

A weekly magazine, conceived and written entirely by Dickens, Master Humphrey's Clock failed in its purpose to be a popular miscellany. However, it survived as solely a vehicle for the serial publication of The Old Curiosity Shop, which had been launched in the fourth issue as a less ambitious work, and Barnaby Rudge.

Editor, The Daily News (1846)

Dickens soon discovered that he was not well suited to the editorial routines of a daily.

Co-founder and Editor, Household Words (1850-59)

For the last 20 years of his life, Dickens was to edit his own weekly magazine. Household Words published topical features, essays, short fiction and poetry by a variety of writers, including Elizabeth Barrett Browning, Wilkie Collins and Mrs Gaskell. Following a dispute between the publishers and Dickens, related to the separation from his wife in 1859, publication ceased.

Founder and Editor, All the Year Round (1859-70)

Dickens's new weekly magazine was similar to Household Words, but serial fiction was introduced as a major element. Among the novels published in All the Year Round were Wilkie Collins's The Woman in White and The Moonstone, and Dickens's A Tale of Two Cities and Great Expectations. Another major feature from 1860 was a series of stories written by Dickens, blending fact with fiction, recounting the experiences of an 'uncommercial traveller'. These stories were later published separately as a book. The magazine continued to be published after Dickens's death, for 18 years under the editorship of his son, Charley. It finally ceased publication in 1893.