Charles Dickens Museum
In 1925, the Fellowship purchased 48 Doughty Street in London, home of Charles Dickens from 1837 to 1839. It was here that he completed Pickwick Papers and Oliver Twist, wrote Nicholas Nickleby and worked on Barnaby Rudge.
Following the purchase the house was opened to the public as the Dickens House Museum. Now known as the Charles Dickens Museum, it is not these days owned by the Fellowship, but it continues to serve as its head office.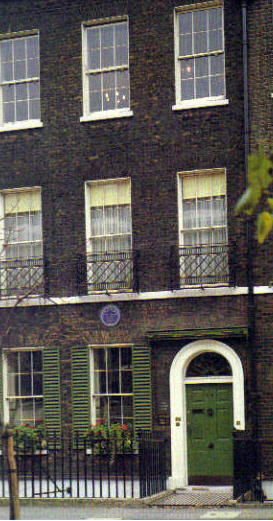 The Charles Dickens Museum at 48 Doughty Street, London
The Museum
The museum occupies four floors of the house, including the basement. One room, Dickens's drawing room on the first floor (US second floor), has been furnished and decorated as it would have been in his day. The other main rooms are used for permanent and special displays of the museum's treasures, including a variety of paintings, manuscripts and artifacts. In a basement room, a 30-minute DVD on Dickens is shown continually throughout the day. The reception area at the back of the building on the ground floor serves as a small shop.
A variety of events are arranged to take place at the house, especially in the months leading up to Christmas. It has been the practice in recent years to open the house during the Christmas period, providing traditional Victorian hospitality in the season that was so precious to Dickens.
More details are available on the museum's website.
See also www.dickens2012.org for details of the 2012 celebrations marking the bicentenary of Dickens's birth.
Friends of the Museum
Special events are arranged for those who join the Friends of the Charles Dickens Museum. For details, send a message to: info@dickensmuseum.com.
The Head Office of the Dickens Fellowship
The officers and other volunteers who carry out the work of the Fellowship work mainly at home, using the space provided at the museum predominantly for meetings. They collect their post from the museum unopened, typically once a week. The staff of the museum are always very supportive, but are unable to provide an administrative service for the Fellowship.
Management
The museum is an incorporated charity governed by a Board of Directors. The members of the Board are selected on the basis of their skills and abilities.  One of the Directors will be a nominee of the Dickens Fellowship.